The Yacht Set
Yacht charter in the Channel Islands
---
We offer a number of charter cruises from day trips to week long charter holidays from the Solent out to the Channel Islands. See below
The Channel Islands are without doubt one of the best places in the UK to live, work and play if you love the sea. Being a group of islands surrounded by the sea means boats of all shapes and sizes are almost a compulsory purchase here and life revolves around the waterside.
Jersey
Jersey is blessed with some of the most beautiful bays and beaches in the world but perhaps the most fascinating and unusual places to explore are the outlying reefs rich with their sandbars, natural pools for swimming and abundant wildlife.
If you want to see dolphins and seals look no further. To keep things manageable I will concentrate on the south coast but as a visiting boater please remember that with some spring tides reaching 40 feet, Jersey has one of the largest tidal ranges in the world – so much so that the island's landscape almost doubles in size twice a day. So the Captain will need to keep a regular eye on the depth gauge!
St Brelade's Bay
Located on Jersey's south-west coast, the bay of St Brelade has a picturesque drying harbour and is a regular spot for pier jumping with children and adults alike. For a sheltered spot, drop anchor just to the east of the inner jetty. With its palm trees and soft golden sand this is by far Jersey's most popular beach and was voted one of the UK's top three beaches in 2019.
Lined with a mix of restaurants from fine dining to 'bucket and spade' cafés, a day trip here is an absolute must. Whilst ashore take time to visit the fisherman's chapel built in the 11th Century where cod fishing fleets would ask to be blessed before sailing to Nova Scotia in the 18th Century.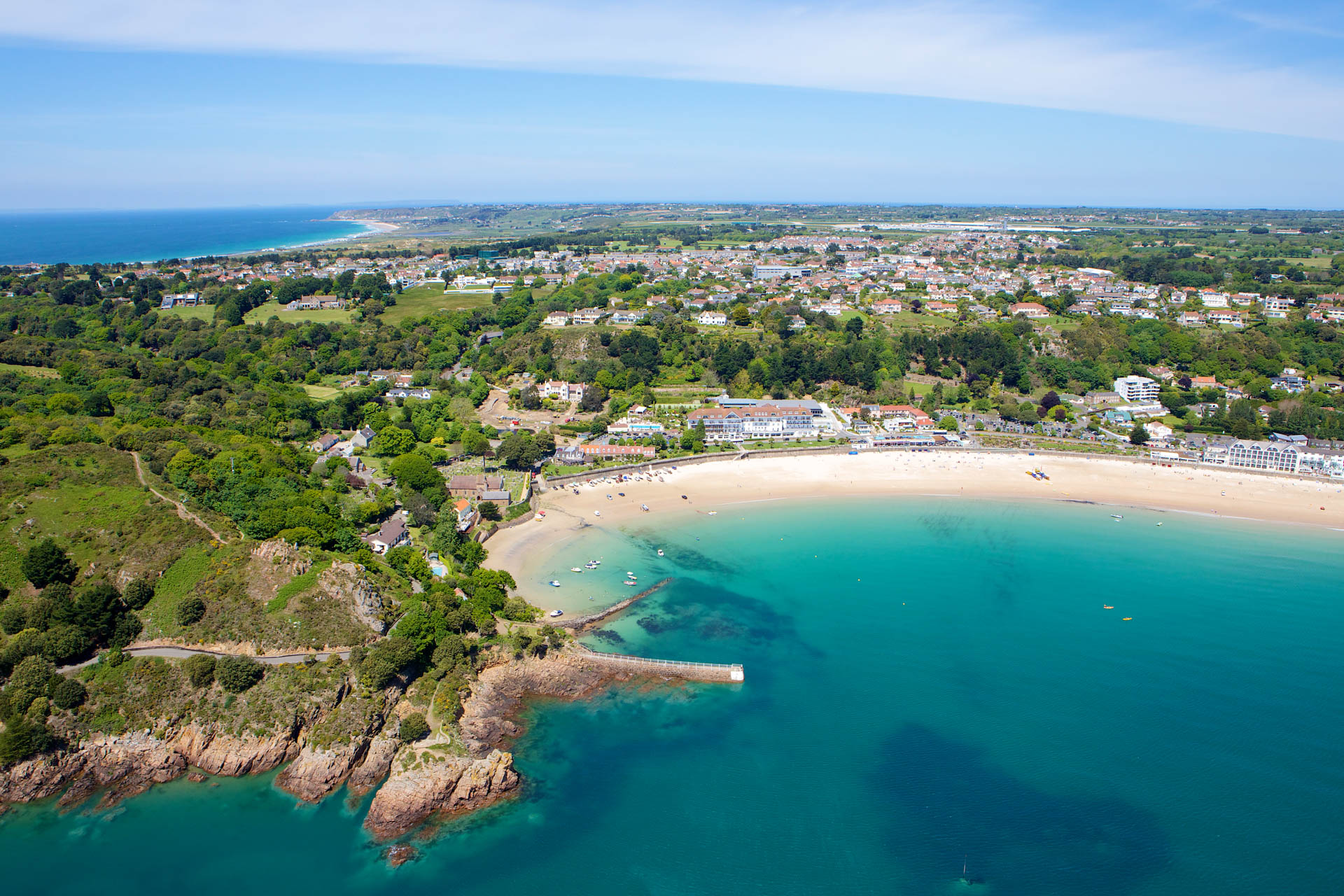 Portelet Bay
Portelet is simply stunning and a very popular anchorage. In the middle of the bay is a small Martello tower built in 1808 known to locals as Janvin's Tomb where a local seafarer, who died of the plague, was buried to protect Jersey from the lethal contagion.
Enjoy not just a beautiful sandy beach but also takeaway wood-fired pizza from a family run café sat at the base of some very steep steps that non boat owners have to negotiate to enter this magical spot. Don't dawdle too long though, as you need to be prepared to drop back south as the tide recedes.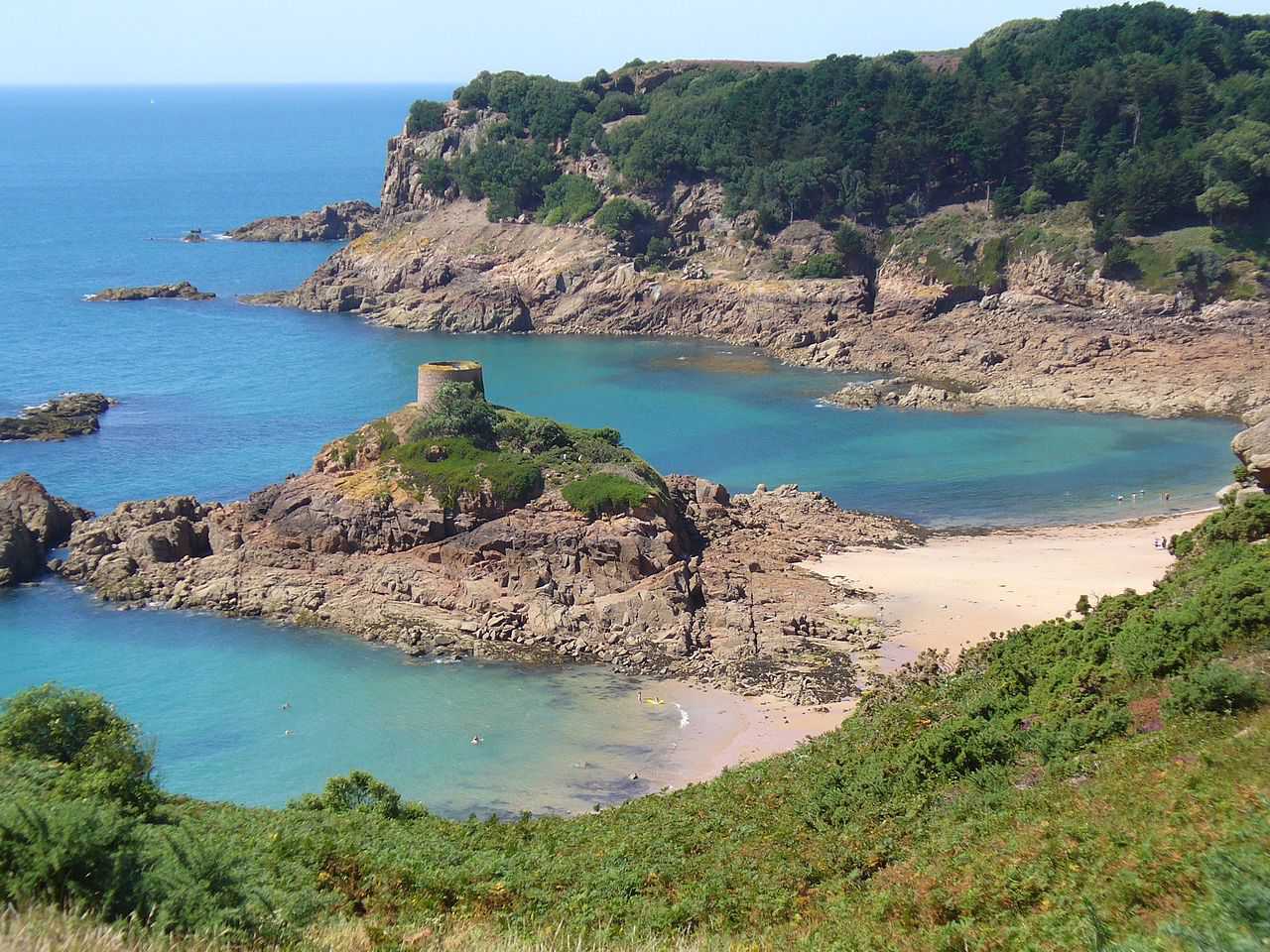 St Aubin's Bay
One of the island's biggest bays and one of the easiest to navigate is St Aubin's Bay, which stretches from St Helier (the island's capital in the east) to the village and port of St Aubin in the west.
The quaint tidal harbour in St Aubin is a foodie's paradise and is surrounded by restaurants and bars. If you can dry out and stay for a night or two this is a must visit. There are just a few spaces alongside the inner harbour wall with water and power as you enter on the starboard side.
Well worth a visit (I know I am biased) is the Royal Channel Islands Yacht Club, its status granted by Queen Victoria in 1862, making it the sixth oldest Royal Yacht Club in the world. Our club welcomes visiting craft of all kinds and boasts some of the best views and food (fresh crab, moules à la crème, sea bass, amazing steaks and pies) in Jersey from its restaurant.
One of my favourites is St Aubin's fort built in the 16th Century on a tidal island. It's a wonderful place to stop for a picnic and explore the local area. This is also a perfect 'sundowners' location if you can match tide and time. Moor up on either pier but keep an eye on your lines for the rise and drop of our big tides. If you can't dry out, you will only have around two hours either side of high water.
If you just fancy a lazy day onboard with spectacular views then just south of St Aubin's fort is Belcroute, a very small and pretty cove that's quite popular with local boat owners as it's a safe anchorage and well sheltered from easterly winds so is reasonably calm within the bay.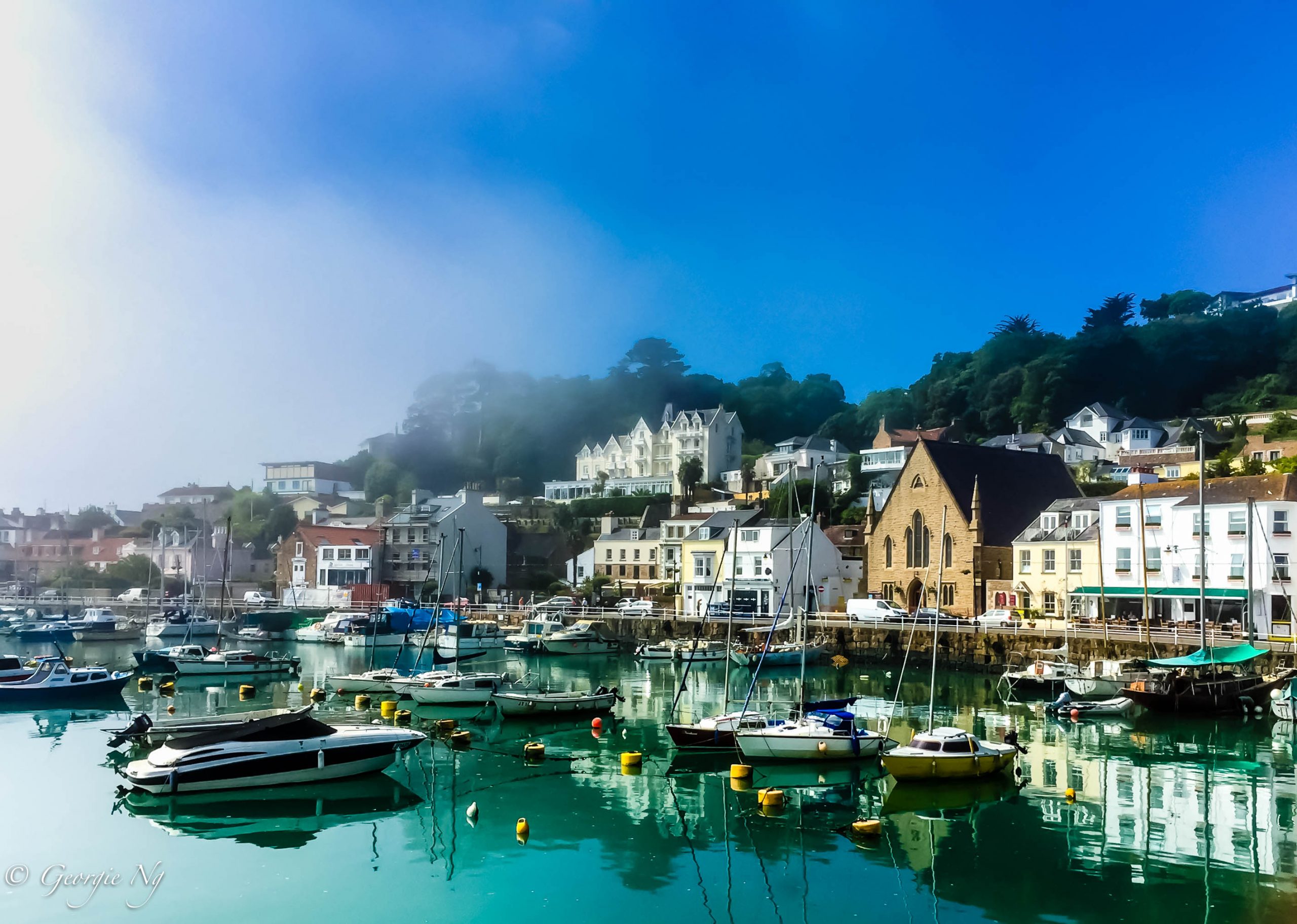 St Helier
The marina is by far the best way to arrive in St Helier – and currently the only permitted port of entry. Driven by finance, the town itself isn't quaint anymore (I'm very jealous of St Peter Port in our sister isle) but it is the place to shop until you drop.
With Michelin restaurants, trendy bars and nightclubs galore, be prepared for a few 'accidental' late nights out!
Gorey Harbour
To head to the far east of the island from St Helier by car should only take ten minutes or so. By sea it is a very different story and presents a real navigational challenge to cover the 13 or so nautical miles while avoiding the most treacherous reefs that lie off Jersey's east coast. For motor boats cruising at 22 knots the trip on a smooth day will take a good 35 minutes.
But it is worth it, as Gorey's castle is such an iconic landmark. It sits proudly above a small tidal drying harbour that, like St Aubin, is lined with superb bars and restaurants.
The harbour provides moorings and shelter with some visitors' holding buoys available at the south-western edge of the harbour. There is also a handful of upper beach moorings available but only during the summer season.
If staying overnight, Gorey offers perfect positioning to head to the first of our offshore reefs – Les Ecrehous which, although halfway to the French coast, provide a pleasant short cruise at 6.5 nm away.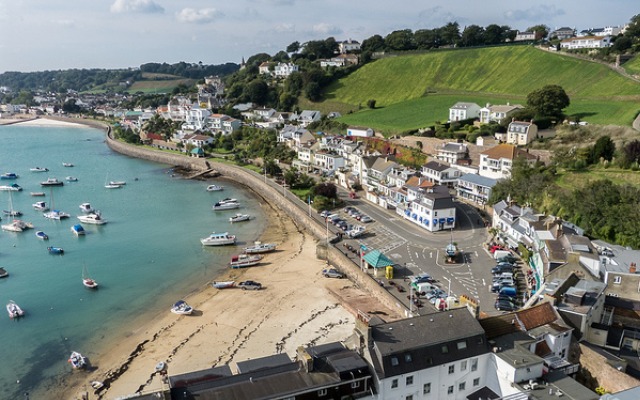 Les Ecrehous
Breathtakingly beautiful, Les Ecrehous is a small group of islands just six miles from Jersey, which actually belong to the parish of St Martin. Although there are a handful of small houses here, nobody lives on the islands permanently.
With crystal clear waters, golden sandbanks and some of the best sunsets on the planet these remote islands attract not just human visitors but a wealth of wildlife including dolphins, grey seals and basking sharks. It's a bird-watchers' paradise too and so in 2005, Les Ecrehous, became a Ramsar site in order to protect the habitats of the many diverse species.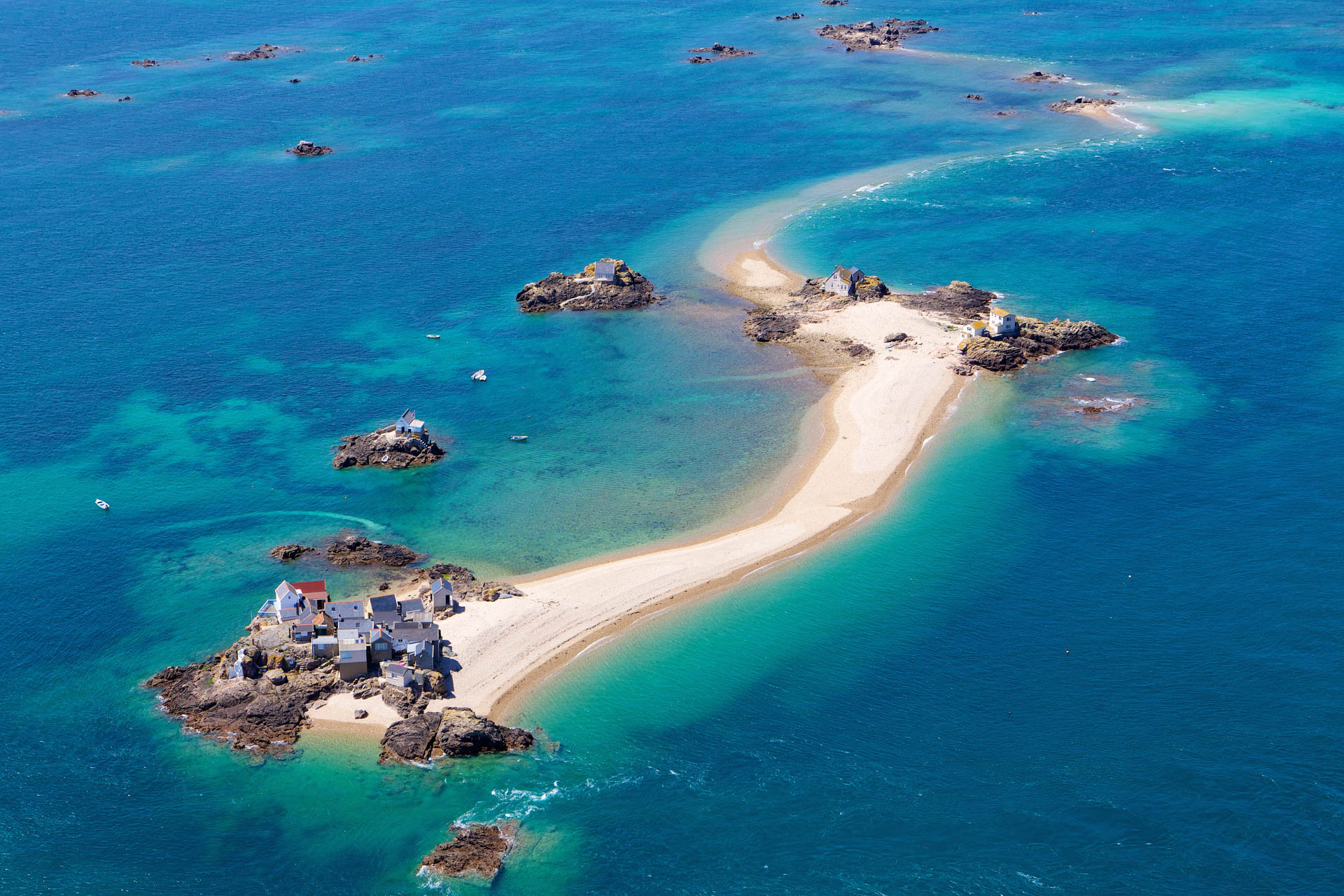 Les Minquiers
Les Minquiers, the southernmost part of the British Isles, is another marine environment protected under the Ramsar Convention and the laws of Jersey. This is a vast outlying reef of jagged fang-like rocks, sandbars and Caribbean-like natural pools. Actually, at low tide the rock shelf around the Minquiers has a larger surface area than Jersey! Again, like the Ecrehous, there are a few uninhabited houses on the main island, or Maitresse Isle, which also boasts a public loo – famed for being the most southernmost building in the British Islands. But, of course, it's the natural scenery and wildlife that really has to be seen to be believed.
This is a wonderful place to spend the day at ease with nature, it's perfect for kayaking, swimming and rock pooling with the children. If you do make the trip to this spectacular 'wonder of the world' on a calm and sunny day, you will be rewarded with one of the most memorable voyages of a lifetime.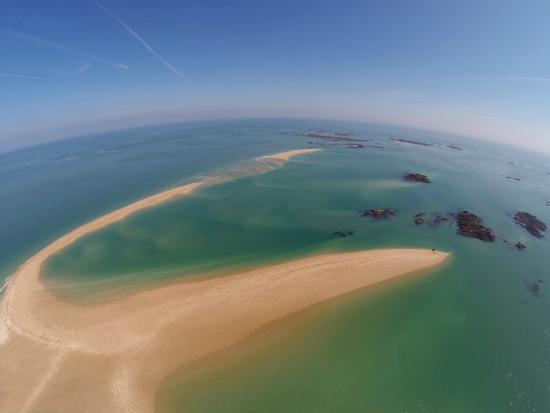 Guernsey and its stunning neighbours
Guernsey is at the centre of a uniquely beautiful and varied cruising ground. The cruising opportunities this magical archipelago offers, which thanks to its sunny climate, white sandy beaches and clear blue seas can feel like the Caribbean at times. The Bailiwick of Guernsey is made up of Guernsey, Alderney, Sark and Herm. We've picked our favourite spots for visiting craft from the UK and Europe to this very special group of islands.
St Peter Port
First stop is Guernsey's tiny capital, St Peter Port, where a maze of cobbled streets and colourful Georgian houses tumble down to the bustling seafront. Victoria marina is where most visitors berth their boats and is perfectly located in the heart of town, close to many excellent restaurants, boutique shops and cafes.
The imposing Castle Cornet has been guarding the entrance to the harbour for more than 800 years and is well worth a visit to learn about the island's fascinating history. Watch out for the daily noon day gun, though. It's loud enough to make you jump!
On arrival in St Peter Port, you will be met by one of the helpful marina attendants in the harbour Dory, who will guide you to your berth or show you where to wait for the tide – access to the marina is restricted by a sill to 2.5 hours either side of high water.
If you miss the window, there are five holding pontoons outside the marina which are connected to the shore throughout the summer. Fuelling with Guernsey's famously low-duty diesel is available on the south side of the main fairway.
St Peter Port has managed to retain its character, and the high street is just a couple of minutes walk from the marina. Take the time to visit Hautevelle House where the French novelist Victor Hugo lived and worked during his 14-year exile from France. The interior was designed by Hugo and is a work of art in itself.
Favourite restaurants in St Peter Port are Pier 17 on Albert Pier, next to the marina, which serves excellent food with fine views of the harbour and castle, and the newly refurbished Slaughterhouse on Castle Pier. Le Petit Bistro is a good bet for lunch, serving authentic French fare and very good wine.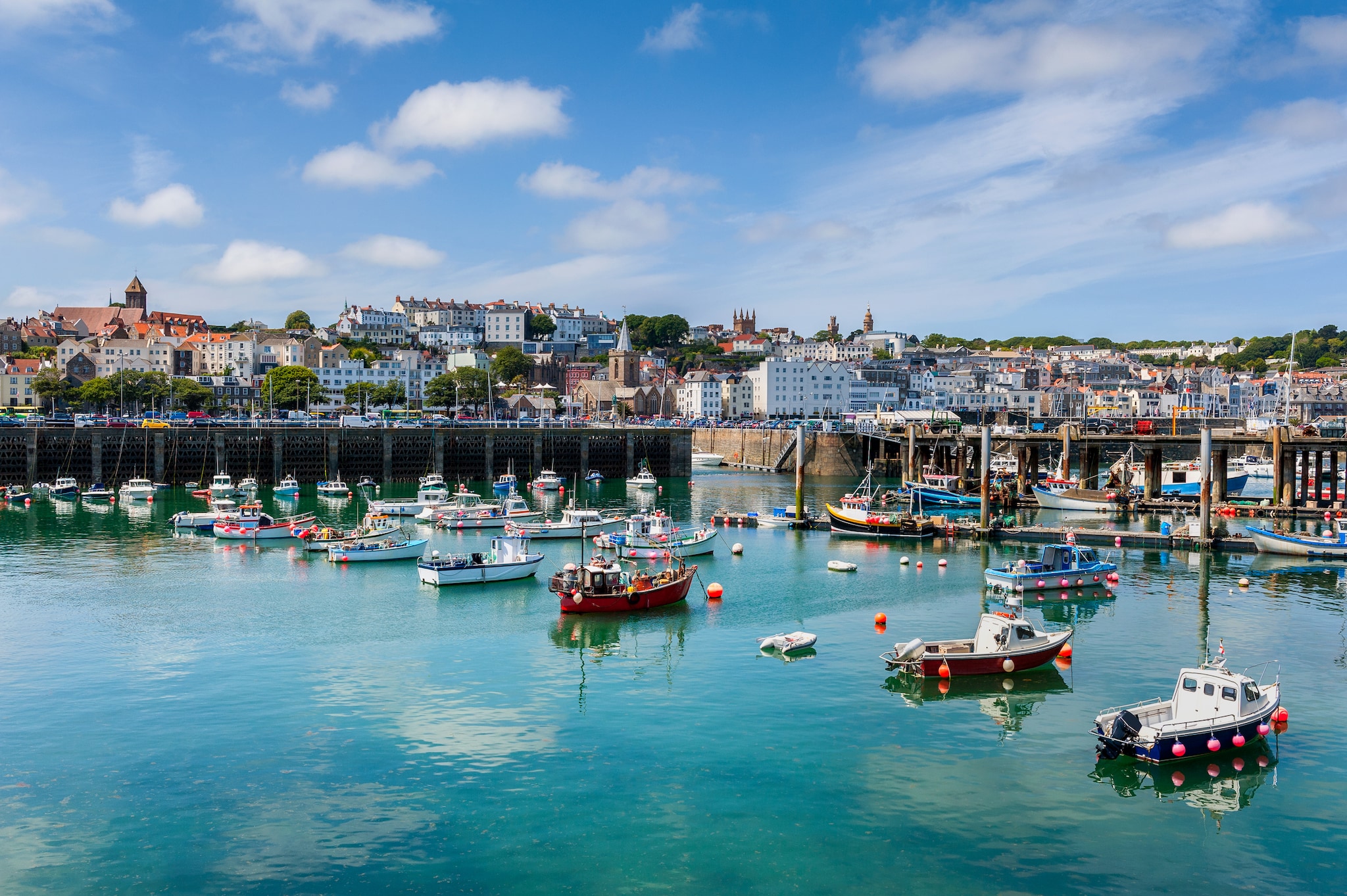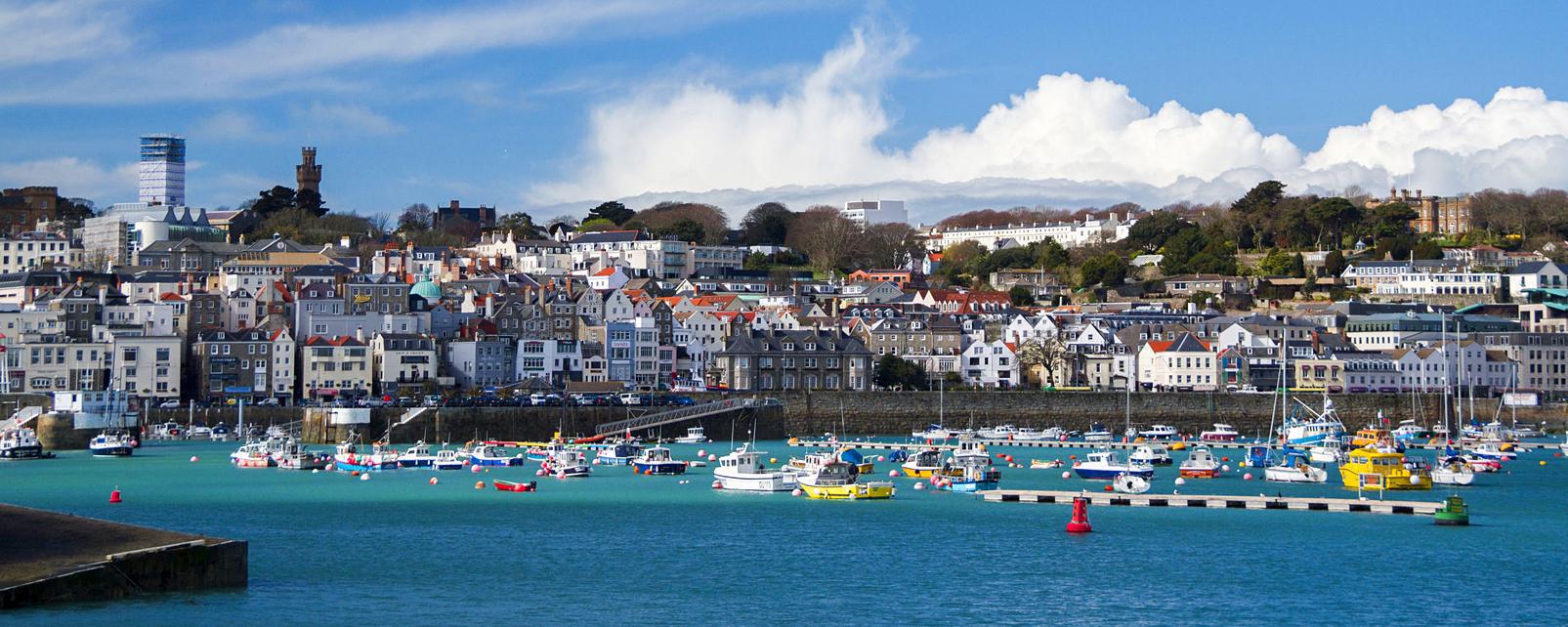 Beaucette Marina and the north of Guernsey
This attractive private marina is located in an old quarry in the Vale parish to the north of the island. Boat owners love the tranquillity offered by its rural setting and the interesting walks on offer nearby.
You can wander around the coast straight from the marina and explore L'Ancresse common with its Norman Martello towers, the La Varde megalithic ruins and the sweeping expanse of sand and rockpools at L'Ancresse and Pembroke Bay.
Entry to Beaucette is available during a greater range of tides but the narrow entrance can be daunting when approaching in rough weather. Visitors' spaces are limited, so call ahead.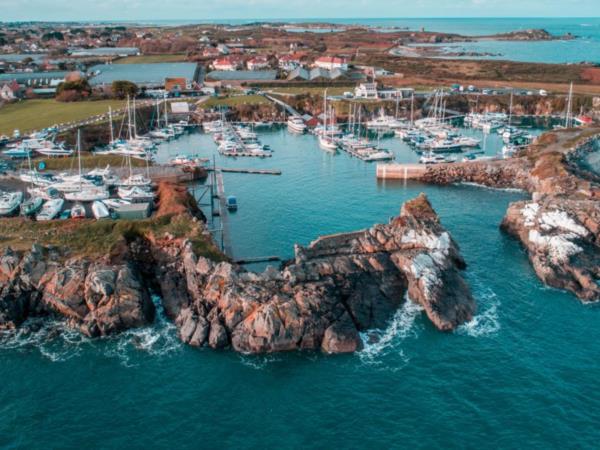 Fermain Bay and the south coast of Guernsey
In contrast to the flat northern end of the island, the south coast is rugged, with a fantastic cliff path linking some breathtaking bays. Just south of St Peter Port, Fermain is popular with locals and visitors alike. It is sheltered from westerly winds and boasts a very good cafe and takeaway next to the slipway.
The beach is quite steep and is one of the only pebbly bays on the island, but it's a peaceful and convenient place to visit by boat, with the added bonus that the route takes you past some of the most expensive properties on the island with their panoramic views of neighbouring Herm, Jethou and Sark.
Further round the coast is dramatic St Martin's point – a truly spectacular spot to drop your hook. On the way to Petit Port bay you'll pass a group of towering rock pinnacles known locally as the Pea Stacks.
Petit Port is surrounded by high cliffs and is best enjoyed from half-tide down when a beach of fine sand is exposed by the retreating sea.
On very low springs it is possible to walk or wade past rocky inlets to atmospheric Moulin Huet Bay to the west of Petit Port. This was the French impressionist Renoir's favourite spot in Guernsey when he visited the island in 1883.
VisitGuernsey has even created an official Renoir Walk with picture frames showing the viewpoints for five of the scenes the artist painted here.
If arriving in Guernsey near low tide, Petit Port is also a secure and peaceful spot to anchor and wait for the marina gates to open in St Peter Port, although there can be a swell if the wind is from the south or south west.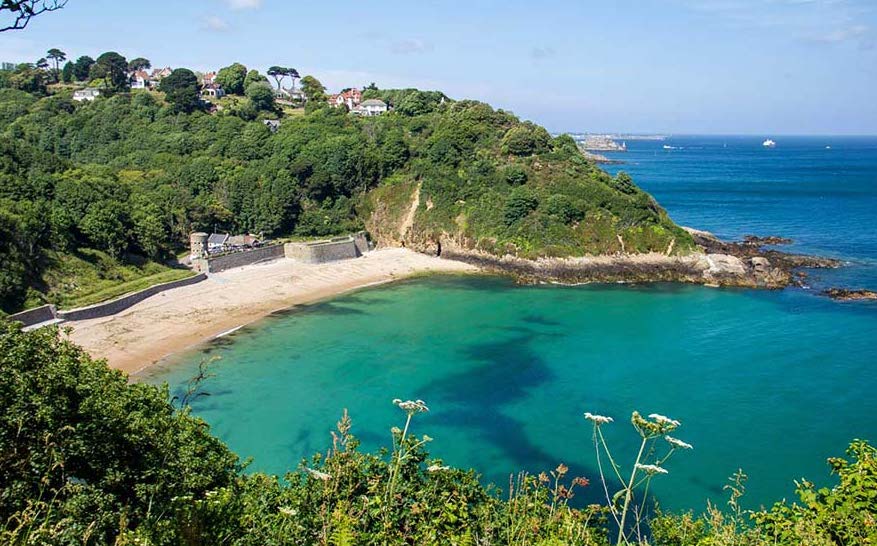 Herm
Tiny Herm is a slice of paradise. It lies around 4nm east of Guernsey and is like a perfectly preserved relic from a bygone era. With a population of around 50 permanent residents, it has no cars and the pace of life seems a little slower and more relaxed because of it.
All the more reason then to visit by boat and enjoy the unspoilt beaches, idyllic bays, well-kept footpaths and abundant wildlife.
The harbour is ideal for dropping off passengers above half tide. It's a busy little port largely thanks to the constant coming and goings of the Travel Trident ferry shuttling people (and provisions) to and from St Peter Port.
There are some visitors' buoys outside the harbour while the sandy seabed makes for good anchoring at other times. Local boats take the more direct route, mooring up on the beach and drying out overnight, usually accompanied by a visit to the popular Mermaid Tavern for a pie and a pint or two.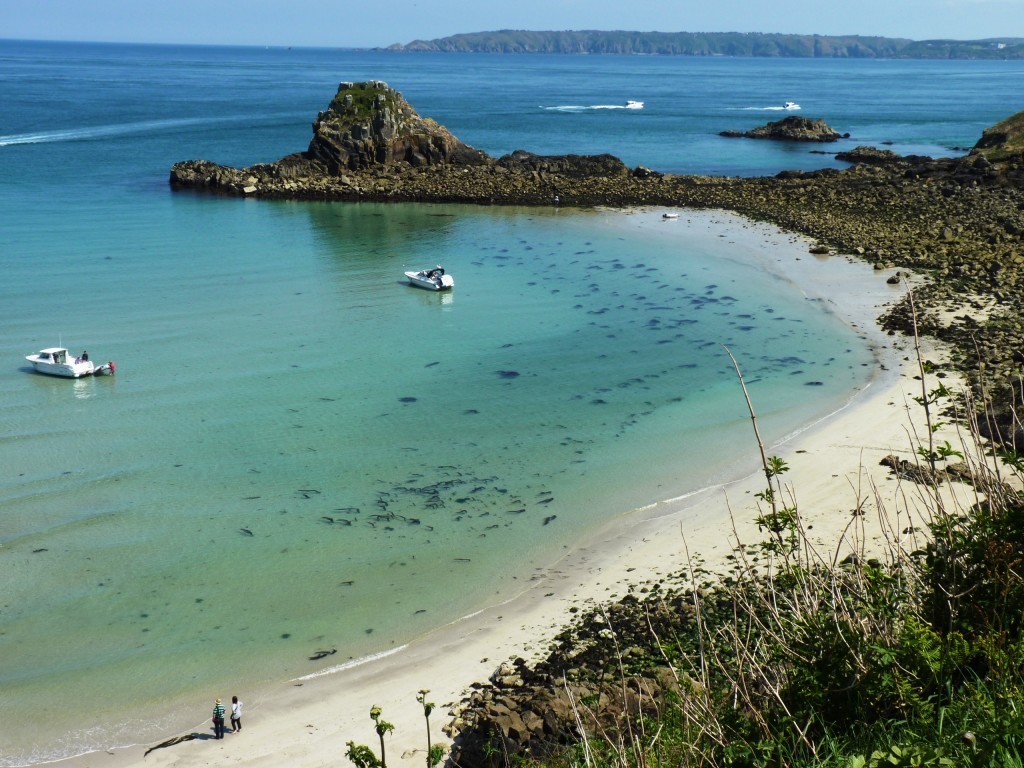 Shell Beach
This east-facing three-quarter mile stretch of fine sand forming the north-east point of Herm is as close to the Caribbean as the British Isles gets (that is until you attempt a dip – "bracing" doesn't quite cover it!).
The sand consists of millions of tiny shell fragments washed across by the Gulf Stream, giving it a shimmering white colour. Not surprisingly, the bay is very popular in high summer and has a handy kiosk for refreshments.
Head for the boulders at Alderney Point on Shell's north-west tip if you want to escape the crowds. It's a breathtaking spot and is often deserted. The beach is ideal for wild swimming and paddleboarding, although there are strong currents in places to be wary of.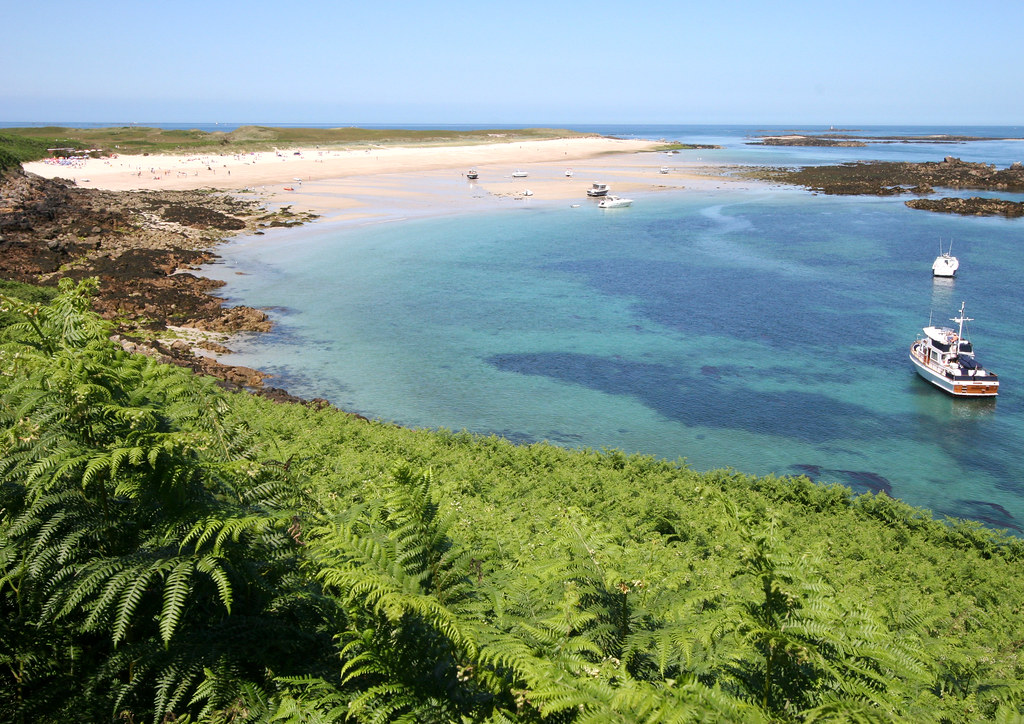 Belvoir Bay
Just to the south of Shell Beach, Belvoir is another good, safe bay. The small cove is much steeper and sheltered from most winds so makes an ideal anchorage.
This is one of our favourite spots and if it does get too busy, you can always pop north to Shell Beach where there is lots of space. This is a good place from which to join the coastal footpath that circuits the island and gives panoramic views across to Sark and Jethou.
Sark
Roughly double the size and distance of Herm from Guernsey, Sark is often referred to as the jewel in the Channel Islands' crown. Like Herm, no cars are allowed on the island with horse-drawn carriages and bicycles the preferred methods of transport on its unpaved roads, some of which skirt along narrow ridges high above the rocky cliffs.
Down at sea level, it's all sparkling blue water and dramatic rocky promontories studded with a handful of small protected coves and beaches – perfect for lazy days at anchor.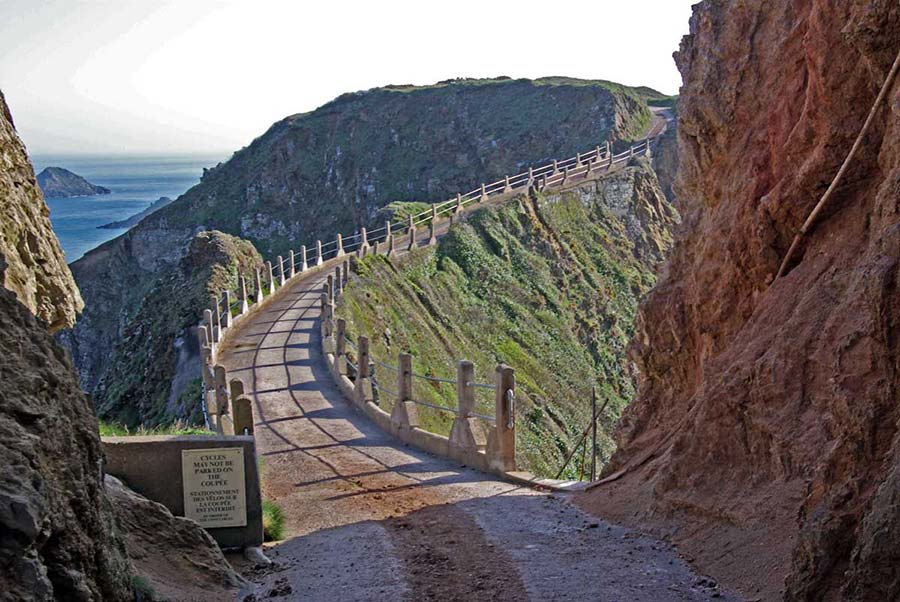 Dixcart Bay
Situated on the east coast of Sark, south of the harbours, this bay provides good anchorage in a gentle setting, protected from most winds from the west and north. A picturesque, short walk up the leafy valley brings you to Stocks Hotel and then it is a further 10-minute walk to the small town.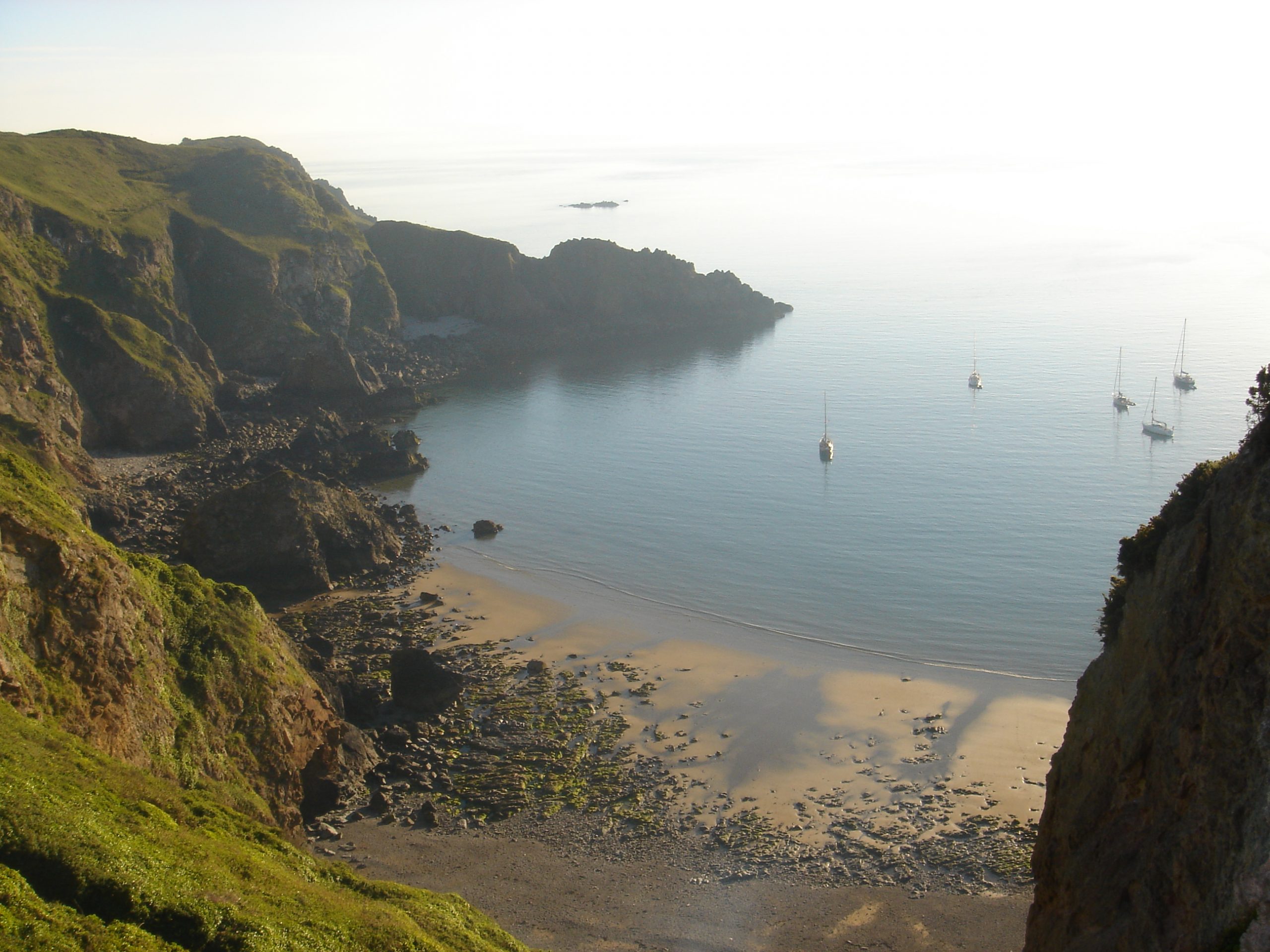 Havre Gosselin
Located just south of the famous Gouliot Passage, Havre Gosselin provides good shelter from easterly winds. There are a number of yellow visitors' moorings which are in deep enough water to stay afloat at all states of tide. A small pier provides landing for dinghies only with a steep path that takes you up to the Pilcher Monument.
Just to the west of Sark lies the rocky island of Brecqhou, owned by Sir Frederick Barclay and his late brother Sir David Barclay, who built their own castle on the island 30 years ago.
Greve de la Ville
Another good place to anchor and again, yellow visitors' buoys are provided. The beach is rocky and it can be difficult to get ashore when it's rough but it's a good place to moor your boat while you visit the delights of Sark – by foot or on rental bicycles.
Grande Greve
This bay is towards the south west of Sark and is situated under La Coupée, a narrow ridge which joins Sark with Little Sark via a precipitous walkway. There is a path and steps up to La Coupée, 80m above the bay. You can go left to the main island or right into little Sark and the excellent La Sablonnerie Hotel, owned and managed by the well-known local character, Elizabeth Perée. The bay is sheltered from easterly winds. Even in calm weather there is sometimes a swell and care should be taken when landing a dinghy on the sandy beach.
Alderney
The third largest of the Channel Islands after Jersey and Guernsey, Alderney is around 25nm north-east of Guernsey, making it an ideal place to stop and recharge your batteries after the crossing from England. Renowned for its spectacular wildlife including puffins, gannets, seals, dolphins, rare butterflies and even its own breed of blonde hedgehogs, this peaceful gem of an island is a reminder of how boating used to be before fully serviced marinas and walkashore pontoons became the norm.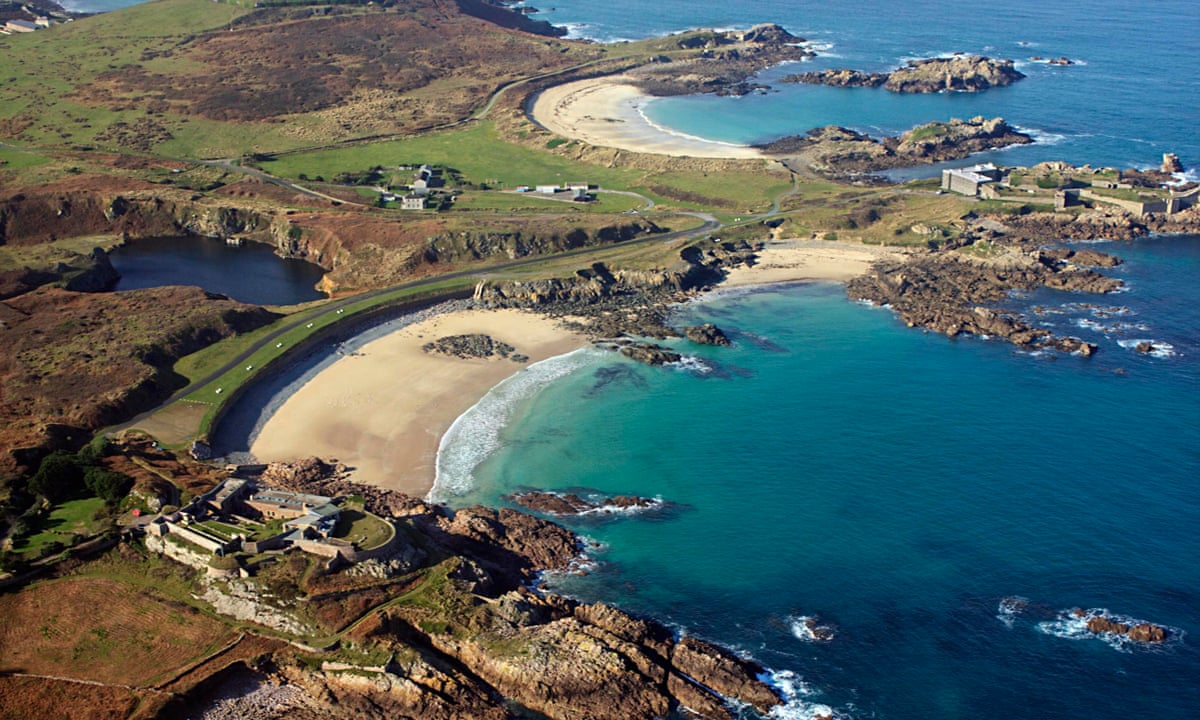 Longis Bay
This popular beach is protected by an anti-tank wall built during the German occupation of the Channel Islands during the Second World War – one of many preserved German fortifications in the Bailiwick. The Nunnery Heritage Site is the best-preserved small Roman fort in Britain and also worth a visit. This is a lovely spot to visit during the day with good views across to France and the Cherbourg peninsular.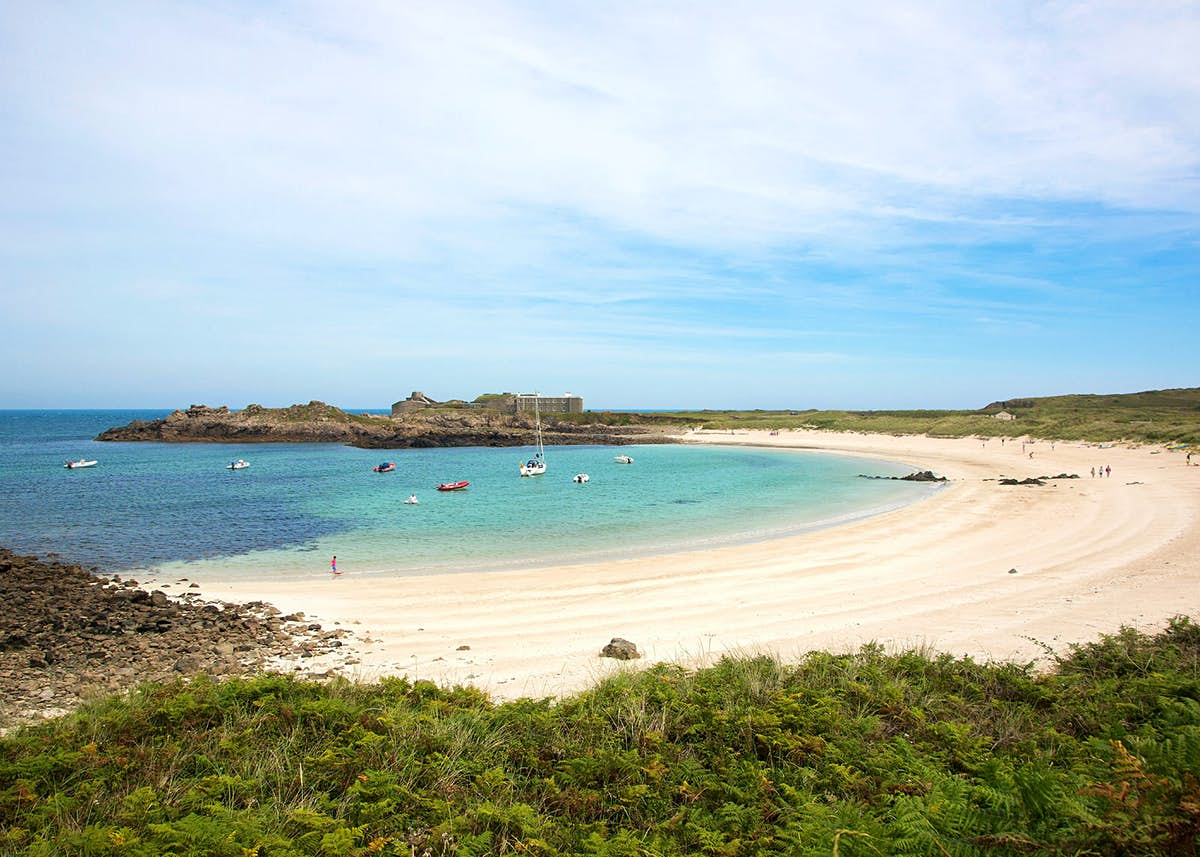 Braye Harbour
There are 70 yellow mooring buoys for visitors and a very convenient water taxi to take you ashore on arrival. Both are chargeable but it's worth it for the peace of mind that a safe mooring brings, not to mention saving you the hassle of having to launch and recover the tender.
There are no pontoons available here and sleeping on board can be challenging if the wind is in the wrong direction but it's a great place to stop, and has a welcoming and helpful harbour office.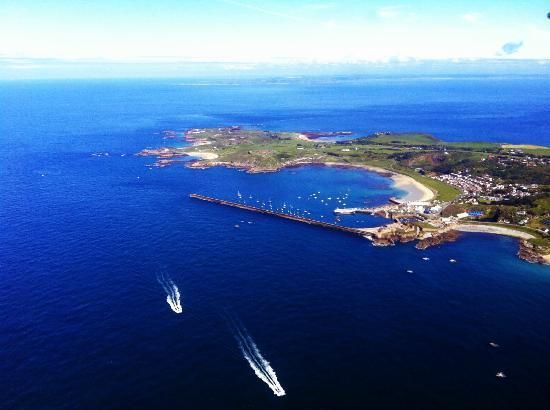 A trip to the channel islands should be on every Motor Yacht Charter's bucket list. Direct from the UK south coast to Alderney and when you have exhausted the delights of the Bailiwick of Guernsey, Jersey is only 27nm away. The Yacht Set would recommend staying overnight in one of Guernsey's marinas or Alderney Harbour, with day visits to the smaller islands, bays and beaches.
FROM THE UK TO THE MED
Check Availability & Book here
Online pricing & Calendar
(Brokers & agents - comission vouchers - contact us)
+44 (0)1273 121072
+44 (0)7496 808484
+44 (0)7785 228484
C3 The Knoll Business Centre
325-327 Old Shoreham Road
Hove BN3 7GS.  United Kingdom.